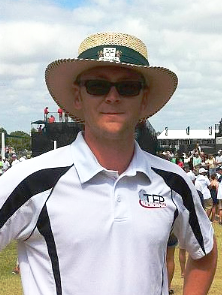 Spencer Wilson (pictured right), general manager and head golf pro at The Golf Club at Deer Chase, provides this tip for playing the 17th hole, one of the most challenging on his course:
"The 17th hole at Deer Chase is a 440-yard Par 4 that requires precision with every shot, all the way from the tee to the green.  
Standing on the tee box, you're faced with an out-of-bounds no more than five yards right of the ideal landing area for your tee shot. 
To make things even more difficult, the fairway slopes severely from right to left, forcing golfers to cut the ball towards the aforementioned out-of-bounds stakes to hold to the fairway. 
If you're lucky enough to find the short grass, you now face an uphill approach shot to a two-tiered green, but like the approach shot, missing left is not an option.  
If you fail to get the ball on the proper tier, three putting is a real possibility. Walking away with a four on this hole will feel like a birdie. But, if you're accurate, or lucky, you can make par and feel proud that you conquered this tough hole."