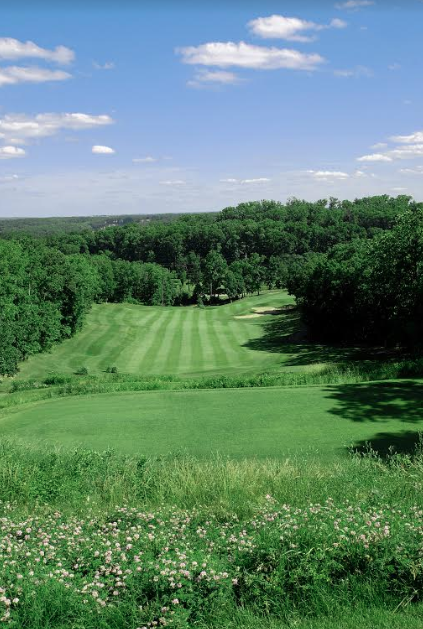 Matt Tausig, director of golf at The Lodge of Four Seasons in Lake Ozark
, offers this advice for playing the #1 hole on 
The Ridge
 course:
"The first hole at The Ridge golf course at The Lodge of Four Seasons is one of my favorite starting holes. The elevated tee offers a picturesque view along with a little jolt of confidence knowing that I don't need to catch my tee shot perfectly. 
Before you pull out the driver on this 340-yard slight dog-leg right par four, let's evaluate the hole and the put together a plan that will give you the best opportunity to start your round with a par. 
First, you will notice the 50-foot drop in elevation from the tee to the fairway which may allow you to take less than a driver off the tee. The hole is lined by trees on both sides with the green tucked behind the trees on the right. The fairway slopes hard from left to right with a fairway bunker strategically placed on the right side of the fairway 240 yards off the tee. The bunker should be avoided at all costs. Tee shots hit into this bunker create a very difficult second shot to the green and will result in more bogeys than pars. 
In order to give yourself the best chance at walking off the first green with a par, grab your 225-yard club to take the fairway bunker on the right out of play. Remember, the left side of the fairway slopes hard to the right, so pick a target in-line with the far-left edge of the fairway. The contour of the property will bring your tee shot to the center of the fairway. 
From the fairway, you will notice the green is slightly elevated and rather small. The angle you have to the pin and pin position should dictate how aggressive you want to be. For the sake of this piece, the pin is located in the front and to the right on the green. Although, you are only left with 115 yards, I recommend playing to the center of the green to eliminate a short miss that will find its way into the grass bunker on the short side. 
Approach shots that hit the green will often give you a good look at birdie. The green gradually slopes from back to front-right but allows for birdie putts to be played aggressively.  Regardless of what golf course or hole you are playing, always evaluate the hole, be sure to create a plan that gives you the best opportunity to make par."