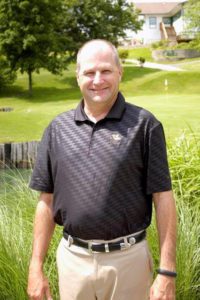 Paul Leahy, director of 

golf

 at Tan-Tar-A Resort, 
offers this advice for playing the #14 hole on
The Oaks
 course:
"The par-three 14th hole at The Oaks is one of the prettiest holes on the course and in the area. The backdrop of the hole is one of hundreds of coves on the Lake of the Ozarks. 
Water surrounds the hole on two sides and most summer days you will get a great view from the tee of boaters hanging out in the cove enjoying the sunshine. 
This hole can play as long as 177 yards and a precise tee shot is needed to keep the ball dry. The green is very narrow back to front and the terrain kicks 

golf

 balls toward the Lake on the left. 
The bailout area is to the right but this will leave you a very, very delicate difficult pitch to a green that runs away from you.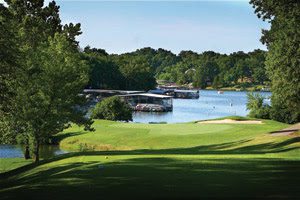 The easiest pin spot on the hole is back left. Hit the center of the green and watch the ball funnel to this back left hole location. Playing as the second longest Par 3 on the course, this pin location, however, has produced the most holes-in-one on the course. 
So, if you find the pin in this location, play for the center of the green and you, too, may have yourself a hole-in-one.
Getting a three on this hole is a great score. And, make sure you get your cameras out while playing this spectacular hole. You won't want to forget the view."