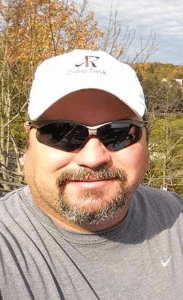 Chris Jackson, general manager at 
Indian Rock 

Golf

 Club
 in Gravois Mills, offers this advice on the eighth hole at his club:
"Hole #8 is a 500-yard par five from the tips. On this hole you must be able to control the left-to-right ball movement from the tee shot.
While aiming at the cart path on the left side of the hole, the ball will naturally want to travel right, due to the contour of the fairway.  A well-placed shot should leave you in the 200-yard range.
Now the real trick to reaching the putting green is you MUST carry the ball 200 yards on your second shot. For most people, I tell them to grab one more club and give it a go.  With this shot you have to consider carrying the ball over water and not going out of bounds 20 yards to the right of the green. Accuracy is a must!  
If one succeeds in hitting the proper shot, you will be left with a fairly easy attempt for Eagle."