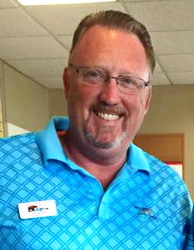 Spencer Duncan
, general manager and 
golf
 pro at 
Bear Creek Valley Golf Club
, offers this advice for golfers who want to score a hole-in-one on the 16th hole at Bear Creek:
"Basically, club down and hit it straight.  
The hole, which plays 165 yards from the white tee, drops 100 feet so club down to shorten up 20-25 yards.  
Don't be too short, however, because a creek runs in front of the green.  
Trees guard both sides and there's a fence on the right that is out of bounds, so it is very important to hit straight."