Lake of the Ozarks Golf Trail Pass
Play 24 ROUNDS of GOLF for an unbeatable price, only $150 … with the 2022 Lake of the Ozarks Golf Trail Pass
If you live in Mid-Missouri and LOVE the game of golf, then this new card is for you! For only $150, the 2022 Lake of the Ozarks Golf Trail Pass is your ticket to nearly 50% off 24 rounds of great golf. Play each of our 12 fantastic Golf Trail courses twice. This is the ONLY card that allows you to play all of the Lake of the Ozarks Golf Trail courses twice!
That's a savings of up to $600!
What's in it for YOU:
Lots of affordable golf!
Play 24 rounds of great golf!
Play 2-3 times and the Trail Pass pays for itself!
It's easy to get and easy to use!
It's the ONLY card that lets you play TWICE at Mid-Missouri's best and most celebrated courses!
Share your card with a buddy/guest!
There are only a limited number of Trail Passes available, so don't wait. Order your Trail Pass today!
Here's How it Works:
Play two 18-hole rounds at each of the 12 Golf Trail courses
Or, Trail Pass holder may take a guest to play – this counts as two rounds of golf.
Pay an extremely reduced course fee each time you play
Tee times are available after 10 a.m.
Golfer may call up to two days in advance for tee times. Be sure to mention that you are using a Trail Pass.
Trail Pass is not good with any other special offer or discount.
Golfers may purchase up to two cards.
Trail Pass is valid Monday through Thursday (tournaments and holidays excluded), Jan. 1 through Dec. 31, 2022. The Pass is valid for weekend play at most courses (Friday/Saturday/Sunday) in Jan, Feb, Nov and Dec. Weekend play is allowed in-season on a course-by-course basis. You must call ahead to check if the course of your choice is allowing Trail Pass play that weekend.
Trail Pass card must be presented to play
Course Fees (includes cart rental)
Golf Trail Courses:
With a Trail Pass:
(18 holes)
Regular Price:
(18 holes)
Bear Creek Valley Golf Club
$30.00
$55.00
The Golf Club at Deer Chase
$30.00
$48.00
Eldon Golf Club
$32.00
$46.00
Indian Rock Golf Club
$25.00
$41.00
Lake Valley Golf Club
$30.00
$60.00
Old Kinderhook Golf Resort
$35.00
$63.00
Osage National Golf Resort
$35.00
$70.00
Redfield Golf Course
$30.00
$54.00
Rolling Hills Country Club
$20.00
$45.00
The Cove at
The Lodge of Four Seasons
$35.00
$69.00
The Oaks at Margaritaville Lake Resort
$30.00
$59.00
The Ridge at
The Lodge of Four Seasons
$29.00
$65.00
About the Golf Trail
The Lake of the Ozarks Golf Trail's 12 unforgettable courses are set amid beautiful forested hills, impressive rock bluffs and waterside views at Missouri's sparkling Lake of the Ozarks. Most of these incredible courses are open year around and were crafted by legendary golfers and designers such as Arnold Palmer, Robert Trent Jones Sr., Tom Weiskopf, Floyd Farley, Ken Kavanaugh, Bruce Devlin and Robert Van Hagge. All Golf Trail courses are conveniently located less than 30 miles apart – some just within minutes of each other, so you can easily play two courses in one day!
The Lake of the Ozarks Golf Trail is close to home… And, it's an unforgettable golfing experience. With the Trail Pass you'll be able to spend more time doing what you love to do… playing tons of golf!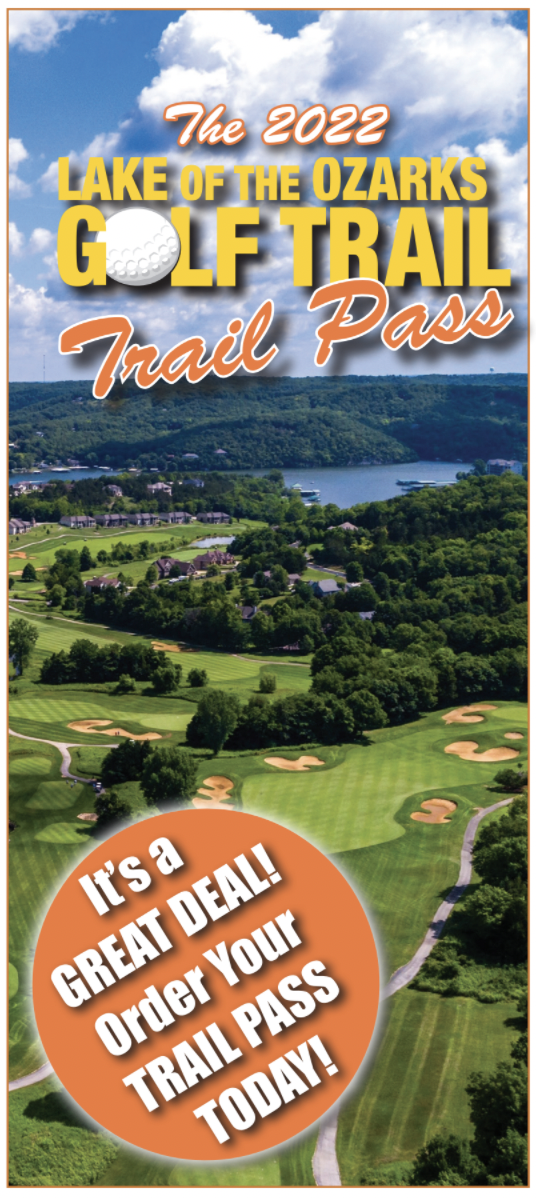 Yes! I want to order a 2022 Trail Pass today!
Complete this form and mail your payment (check or money order only, payable to Lake of the Ozarks Golf Council) to:
Lake of the Ozarks Golf Council
125 East High St., Suite 200
Jefferson City, MO 65101
Phone: 1-800-490-8474
To use your debit or credit card, please call us to place your order. Or, come to our Jeff City office, Monday through Friday, between 10 a.m. and 4 p.m.